Dairy processing plant cuts maintenance costs by over 40% with SKF sealing solution
The challenge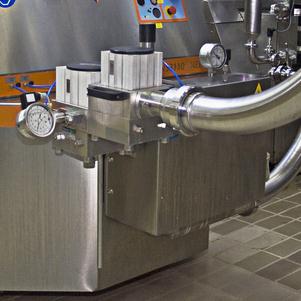 A dairy processing plant was experiencing frequent contamination in a homogenizer, due primarily to harsh washdowns. Conducted four times a week, the washdowns of  the processing equipment  included caustic soda and acids, plus temperatures between 90 and 140 °C. Rapid reciprocating movements and 200 to 350 bar pressures involved in the dairy homogenizing process also reduced sealing system service life, as particles from the seals and back-up ring entered the milk product and caused shaft damage.  Average seal service life did not exceed 3–4 weeks.
The SKF solution
SKF sealing engineers developed an optimized solution to help the dairy processing, seal service life extend beyond 3-4 weeks. Featuring a new seal that was compatible with the existing housing and provided improved seal functionality, the solution employed food grade materials with excellent resistance to cleaning chemicals.
The results
The SKF sealing solution provided reliable service for 12 months on the dairy homogenizer. Seals are now replaced once a year when systems are shut down for annual maintenance. The dairy processing plant has significantly increased productivity and cut costs related to maintenance and contaminated products.
Summary over 12 months:
Reduced maintenance:  €129 000

Savings in unspoiled milk:  €137 000

Savings in seal replacement (180 seals):  €14 700

Total savings:  €280 700
Note: All numbers are rounded off and based on customer estimates. Your particular cost savings may vary.