Power generation
How to provide powerful solutions for the energy industry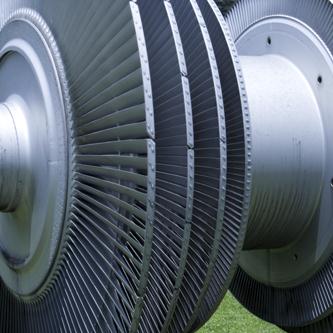 Regenerative as well as conservative energies demand high technology equipment to make the most of resources. Machine parts such as digital axes, electro spindles, rotating tables, or dividing units must be manufactured with extreme precision to guarantee continuous and reliable performance.
The challenge: Accuracy, speed and precision
The focus of the machine tool builder is on continuous innovation to increase machine speed, accuracy and stiffness in order to improve the finishing surface of the worked piece. This involves the electro spindle and the bearings inside directly.
The solution: Customised super-precision bearing solutions
Our engineers worked closely with the customer to develop a unique solution by customising the high-speed bearings (E design) with ceramic balls, higher precision P2 (ABEC 9) tolerance class and 18-degree contact angle for higher axial stiffness, accuracy and load capacity. The electro spindle and work centre now provide excellent performance. The SKF solution actually outperforms the customer's target of 15 000 r/min by allowing 16 000 r/min with very low spindle temperature variation.
SKF super-precision bearing solutions
Complete sealed and greased-for-life bearing solution using the following bearing sets: 

Front group: 7013 FE/HC PA9A TBTA 

Rear group: 7011 FE/HC PA9A DBA
Product overview