SKF CircOil circulating oil lubrication system


Reducing downtime for rolling mill stands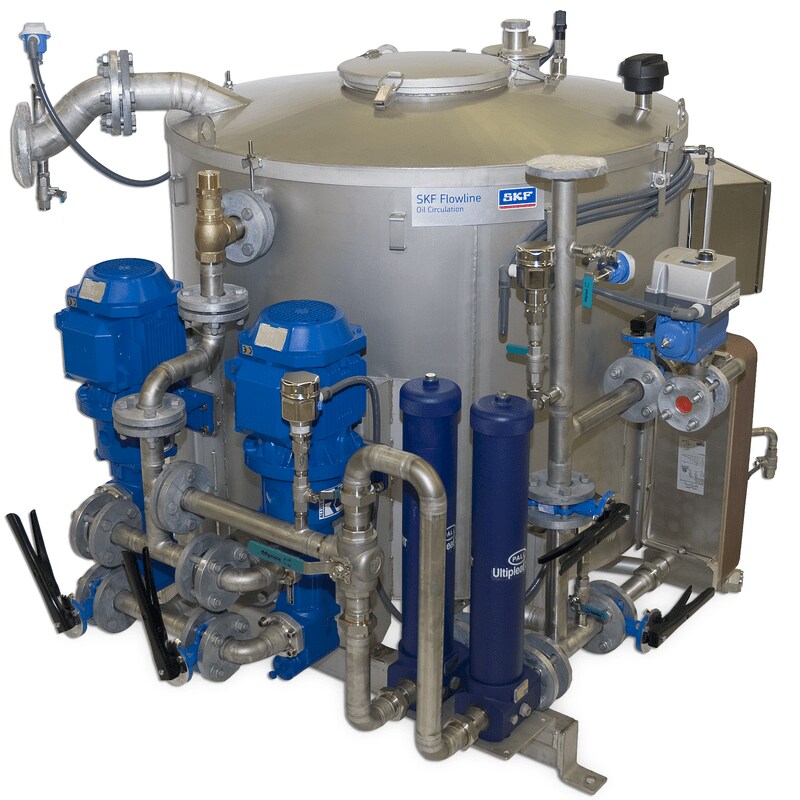 Reliable oil circulation is essential for the bearings and gearboxes of rolling mill stands. However, due to the limited space available, the tanks used for the oil circulation systems are not always dimensioned for sufficient separation of air that reaches the tank through the return flow. The dissolved air will then reach the lubrication system, causing negative effects or even damaging the bearings.
By integrating a plate separator into the oil tank, the SKF circulating oil lubrication systems reduce the time required to separate not only air, but also debris and free water from the lubricant. The parallel plate separator technology also enables customization of lubrication systems, which enables reduction of tank sizes as well as circulation rates and investment costs. Combined with the SKF Flow Limiter, the system also secures proper lubrication of each lubrication point, reducing downtime to a minimum.
SKF Flowserve for large customized motors and gearboxes
Using the right amount of oil, at the right time and temperature can help extend bearing and gear systems service life. Keeping out contaminants like debris, water, or air can help even more, further reducing wear, operating temperatures and lubricant consumption. SKF Flowserve oil circulation systems and products can make it happen for large customized motors and gearboxes.