SKF hybrid bearings

Longer lasting under extreme conditions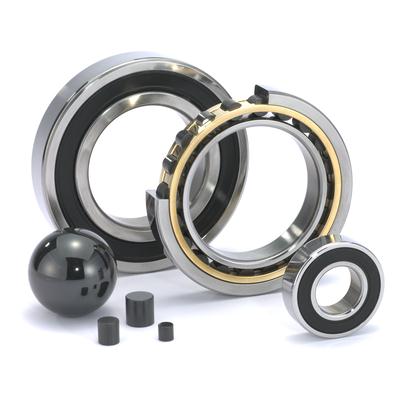 SKF hybrid bearings use balls or rollers made of silicon nitride, a ceramic material with unique characteristics that make it an excellent choice for applications that require high speed, high stiffness, and electrical insulation properties, among others.
Featuring a very smooth service finish and low conductivity, SKF hybrid bearings cut lubricant consumption and open up a wide range of possibilities for rolling bearings. Features include:
Lower density - Silicon nitride balls have a density of only 40% of similar steel balls, enabling higher speeds, less weight, lower inertia, plus more rapid starts and stops.
Low friction - Silicon nitride's low coefficient of friction enhances wear resistance, allowing bearings to run cooler even when they are poorly lubricated.

Higher modulus of elasticity - Ceramic balls have 50% higher modulus elasticity than steel for increased bearing stiffness.
Low conductivity - Ceramic balls act as a barrier to electrical current passing between inner and outer rings, thereby delivering a simple method of insulation.
Lower coefficient of thermal expansion - Ceramic balls have a thermal expansion only 29% of similar steel balls, which allows less sensitivity to temperature gradients for more accurate preload control.