SKF paper machine optimization

Machine condition data and analysis solution drives productivity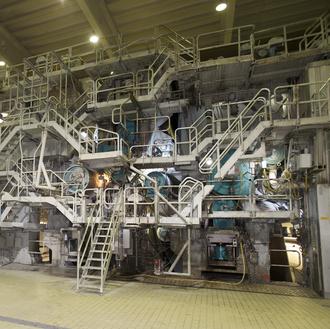 Problems with paper machine can significantly reduce productivity and quality. SKF offers a powerful array of solutions developed to overcome
these obstacles. SKF paper machine optimization programmes are specifically designed to identify problems in key equipment such as press sections and spreader rolls, and to maximize their overall machine efficiency (OME) through the strategic collection and analysis of machine condition data.
The right combination of products, services and know-how
Every SKF paper machine optimization programme starts with a standard pre-configured solution, which is tailored to your plant's machines, and includes:
SKF @ptitude Decision Support, which includes embedded knowledge to guide you in what needs to be done and when. The system is configured specifically for your machine components.

SKF Multilog Online Condition Monitoring System, which collects critical data, and SKF @ptitude Analyst software, which helps you to analyze the condition of your machines. This information is displayed on-screen using a graphical human machine interface, making it easy to identify problems instantly. Data is rapidly transformed into valuable information for accurate and reliable decision-making, so your team can respond immediately to changes in machine condition as they occur.

Benefits of SKF paper machine optimization programmes:
Increase runnability

Improve reliability

Increase availability

Increase machine speed

Increase product output

Improve product quality

Reduce unplanned downtime

Extend planned shutdown intervals