SKF Multilog On-line System IMx-Rail

IMx-Rail – benefit from reliable railway performance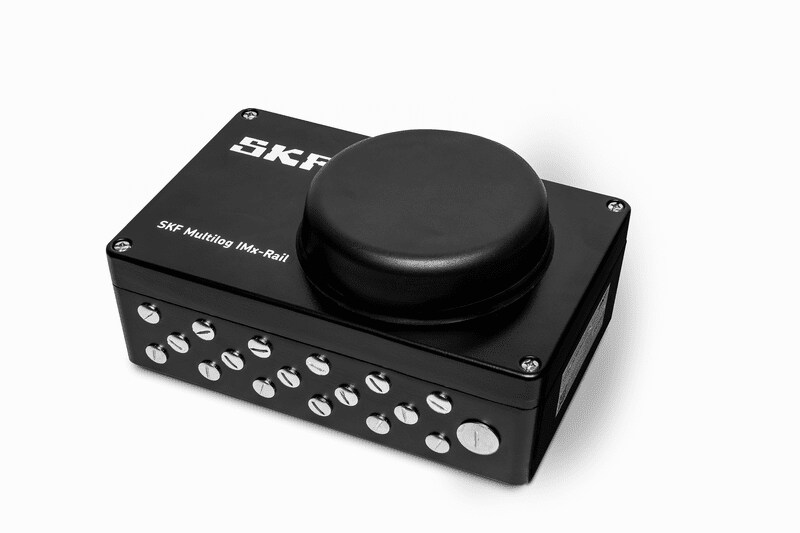 Under pressure to drive costs down, railway operators need reliable trains that arrive on time. Continuous monitoring with IMx-Rail is one easy way to achieve both. IMx-Rail is a cost-efficient multi-channel sensor that can be integrated into an existing system in a wide range of railway applications. IMx-Rail comes with decades of SKF knowledge attached and the option for SKF Remote Diagnostic Services.
24/7 monitoring – Individually mounted multichannel sensors provide remote condition monitoring, including collection, analysis and hosting of vibration and temperature data

Minimize unplanned stops – Save money and get more satisfied passengers by increasing accuracy in alarms for rotating parts and fixing potential issues before they develop into failures

Reduce total cost of ownership – Fewer unplanned stops and longer intervals for planned maintenance are the starting point for significant savings. IMx-Rail also opens the door to a business model tailored to your individual KPIs, allowing you to avoid large one-time investments

Increase maintenance intervals – 90% of refurbished bearings could actually have run longer. Data from IMx-Rail can help harmonize – and thus reduce – the number of maintenance operations between components

Low entry cost for total monitoring solution – Lower cost by integrating only one type of monitor into existing systems per bogie for monitoring traction motors, axleboxes and gearboxes
The IMx-Rail setup
IMx-Rail is mounted in either internal or external locations, depending on the equipment being monitored. The system then can relay performance data to the cloud via WIFI or back-up wireless transmission systems. The data is processed, and in the case of anomalies, alarms are sent to a web interface used to view the data.

The IMX-Rail solution has open communication standards like Modbus TCP/IP and RS 485. It can be integrated into existing systems and the Train Control & Management System. It has a user-friendly interface and can provide fleet status in an instant. Today, 95% of hot box alarms are false. With the SKF algorithms developed over several decades, the risk of misinterpretation is minimal. 

The multichannel setup enables a minimized risk of signal deterioration. Sophisticated signal processing and algorithms also separate the signal from surrounding noise. If the network is unavailable, the system can store the data for later analysis.