Features and benefits
All SDAF housings share the following features and benefits:
Stiff housing
The caps and bases are reinforced with extra material (
fig. 1
). This improves heat flow away from the bearing outer ring and avoids distortion of the housing bore.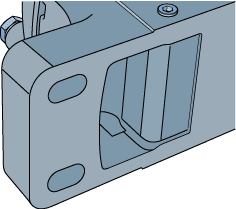 Caps and bases individually marked
The housing base and cap of all SDAF housings are matched during manufacture and are not interchangeable with the caps and bases of other housings. To help avoid mismatch, each cap and base are numbered (
fig. 2
).