Features and benefits
FSDR .. K housings have the following features and benefits:
Superior sealing solution
The SKF multi-stage labyrinth seal, which is standard for all trunnion bearing housings, is a highly effective sealing solution that can prevent the ingress of contaminants even during high-pressure wash downs. The inclined outside face of the labyrinth ring helps to prevent water and contaminants from entering the labyrinth (
fig. 1
)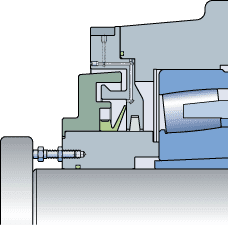 Reduced grease consumption
Trunnion bearing housings typically require large amounts of grease at frequent intervals, to purge contaminants from the bearing and housing. With SKF grinding mill housings however, the highly effective multi-stage labyrinth seal makes it possible to extend relubrication intervals, helps to eliminate overgreasing and reduce grease consumption.
Easy access for inspection and maintenance
The covers and labyrinth rings are split for easy removal. This enables the housing, bearing and seals to be inspected, or replaced, and used grease to be removed, without dismounting the housing.
Machined base ends
The base ends of FSDR .. K housings are machined to make alignment easier and to provide a flat surface for stops (
fig. 2
).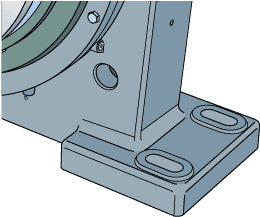 Ventilating valves
Ventilating valves are supplied with the housing (
fig. 3
). They help to prevent high pressures, which can be caused by heat, from building up in the housing. The valves have a 2 μm dirt filter.