Features and benefits
SKF roller bearing units share some of the following features and benefits:
Ready-to-mount
SKF roller bearing units are assembled, greased and ready-to-mount, saving time and reducing the risk of contaminating or damaging the bearing during installation.
Simple mounting
The bearing units can be used with commercial grade shafts and are located easily on the shaft by tightening the set (grub) screws in the mounting collar or locking collar.
Stiff housing
The housing base is reinforced with ribs and the area around the attachment bolt holes is strengthened to minimize the risk of cracking caused by over-tightening the attachment bolts (
fig. 1
).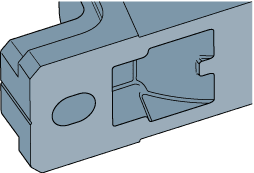 Easy replacement
With SKF inch roller bearing units, logistics costs are reduced as there is only one part to order, store and mount.