Features and benefits
SKF ConCentra roller bearing units have the following features and benefits:
Ready-to-mount
SKF ConCentra roller bearing units are assembled, greased and ready-to-mount, saving time and reducing the risk of contaminating or damaging the bearing during installation.
Simple mounting
The bearing units can be used with commercial grade shafts and are located easily on the shaft by tightening the grub (set) screws in the mounting collar. To simplify mounting and make alignment more accurate, lines indicating the centre of the bearing seat or the housing bore axis are cast into the housing base or flange. Dimples indicate the position for dowel pins (
fig. 1
and
fig. 2
).
Concentric locking
Torquing the grub (set) screws to the recommended value sets the internal clearance within the bearing and tightens the sleeve against the shaft. The near perfect 360° grip on the shaft virtually eliminates shaft damage and the possibility of fretting corrosion.
Easy replacement
With SKF ConCentra roller bearing units, logistics costs are reduced as there is only one part to order, store and mount.
Stiff housing
The housing base is reinforced with ribs and the area around the attachment bolt holes is strengthened to minimize the risk of cracking caused by over-tightening the attachment bolts (
fig. 3
).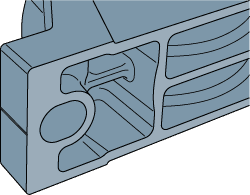 Optimized for endurance
The upgraded SKF Explorer spherical roller bearings mounted in SKF ConCentra roller bearing units provide a very high load carrying capacity. The special roller profile prevents edge stresses from occurring and the rollers, together with the floating guide ring, keep friction and heat generation to a minimum.