Deep groove ball bearings for high temperature applications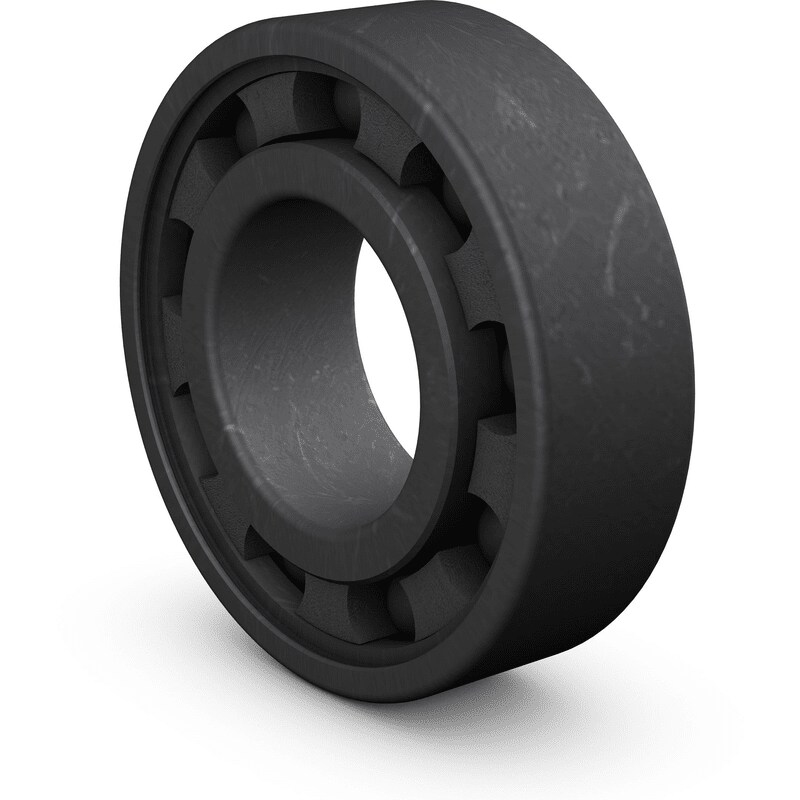 SKF deep groove ball bearings for high temperature applications correspond in design to standard single row deep groove ball bearings of the same size. They have no filling slots and can accommodate axial loads in addition to radial loads (→ Loads and selecting bearing size).
The entire surface of the bearing and shields are manganese phosphate coated to enhance adhesion of the lubricant to the metal and improve the running-in properties of the bearing.
The radial internal clearance is a multiple of C5 to prevent the bearings from seizing, even when they cool rapidly.
Bearing benefits and features
The benefits and features of high temperature deep groove ball bearings (
fig. 1
) include:
No need for relubrication
All variants, except open (without shields) VA201 bearings, are lubricated for the life of the bearing with graphite-based high temperature lubricants. Open VA201 bearings require relubrication.
Simple replacement
The boundary dimensions are the same as those of standard bearings.
Operating temperature up to 350 °C (660 °F)
The internal radial clearance and the lubricant are optimized for operation at high temperatures.
Protection against solid contamination
Shields (designation suffix 2Z) protect the bearing.
Improved running in
The entire bearing surface is manganese phosphate coated.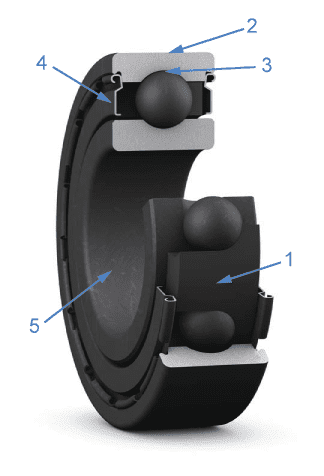 Designs and variants
The SKF assortment of deep groove ball bearings for high temperature applications (fig. 2) provides solutions for various combinations of operating temperature and speed.
Table 1 lists the lubrication type, maximum operating temperature, limiting speed, maintenance requirements and all other primary characteristics of the variants within the assortment.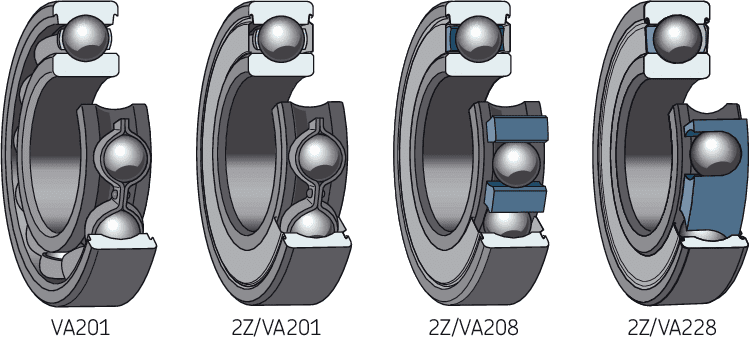 Sealing solutions
High temperature deep groove ball bearings can be protected from contamination by either integrated shields, external shields or a combination of both.
For high temperature bearings, metallic shields are the primary recommendation where a capping device with low complexity is required. The shields:
prevent the ingress of solid contaminants into the bearing

are non-contacting

generate no friction

do not wear

are particularly well suited for high temperatures because of their material and design
External shields
In some cases, integrated shields are insufficient and additional external shields should be considered, such as:
External sealing
and
Seals
.
NOTE
Because of the large radial clearance for high temperature deep groove ball bearings, special attention should be given to the design of the sealing arrangement.
Custom-made seals
In cases where none of the sealing options above are applicable, SKF can provide custom-made seals for operating temperatures up to 250 °C
(480 °F)
. These seals are usually made of PTFE (polytetrafluoroethylene) thermoplastics.
WARNING
PTFE seals exposed to an open flame or temperatures above 300 °C (570 °F) are a health and environmental hazard! They remain dangerous even after they have cooled.
Read and follow the safety precautions under this WARNING.
To further improve sealing systems that incorporate custom-made seals, it is preferable to use a wear sleeve such as the
SKF Speedi-Sleeve
. This improves the seal counterface condition without the need for re-machining. For additional information, contact SKF.