Maintenance-free, long-life sliding contact surfaces

"Maintenance-free" is an industry-wide term used to describe plain bearings and rod ends with self-lubricating sliding contact surface combinations. The term maintenance-free does not imply that these bearings should not be inspected as part of a regularly scheduled maintenance program.

These so-called maintenance-free bearings and rod ends offer a number of advantages for OEMs and end users alike. These advantages, which include minimal maintenance and reduced lubricant consumption, quickly compensate for the difference in the initial purchase price when compared to standard steel/steel bearing solutions. And of course, the impact that maintenance-free bearings have on the environment is an added benefit.
To offer maintenance-free solutions for the greatest number of applications, SKF manufactures spherical plain bearings and rod ends with different sliding contact surface combinations (fig. 1). These combinations, which in some cases are size dependent, include:
a. steel/PTFE (polytetrafluoroethylene) sintered bronze
b. steel/PTFE fabric
c. steel/PTFE FRP (fibre reinforced polymer)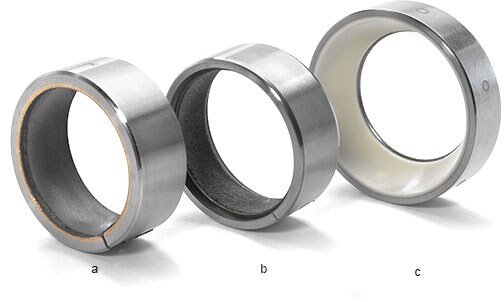 Table 1
provides the lining structure of the different combinations.
Maintenance-free bearings can operate without grease, and therefore do not need to be relubricated. Depending on the sliding surfaces, grease can improve bearing service life or can have a negative effect on it. Therefore, SKF does not recommend the use of lubricants for bearings with steel/PTFE sintered bronze or steel/PTFE fabric sliding contact surface combinations, whereas initial lubrication followed by occasional relubrication of steel/PTFE FRP bearings can extend the service life of the bearing.
Be aware that "maintenance-free" refers to bearing service life only, and does not refer to the service life of an application or general maintenance intervals of other machine parts in the application. For detailed information about the basic rating life of spherical plain bearings or rod ends, refer to the section
Basic rating life
. The basic rating life as a guideline value for the service life under certain operating conditions can be calculated using the information provided in the section
Basic rating life calculation
.
Self-lubricating, dry sliding materials are not as stiff as steel and consequently are subject to greater deformation under load than steel. These sliding materials are also more sensitive than steel to alternating or shock loads. If either of these load conditions exists, contact the SKF application engineering service.

Maintenance-free bearings and rod ends are designed for applications where:
load direction is constant and may be heavy

low coefficient of friction is necessary

relubrication is not possible or difficult