Radially free mounted bearings for axial load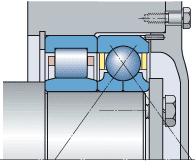 You may want to use individual bearings in a bearing arrangement to separately accommodate the radial and axial component of the load. A typical arrangement is to use a cylindrical roller bearing and a four-point contact ball bearing (
fig. 1
).
Where using an individual bearing to accommodate the axial load, you should ensure that this bearing is not subjected to unintended radial loads by:
designing the bore diameter of its housing to be approximately 1 mm larger than the bearing outer diameter

not clamping its outer ring in the axial direction to permit its free radial positioning
Also consider the use of an anti-rotation pin. The designation suffix N2 indicates that the bearing has two locating slots in the outer ring.