Design considerations

Loose fit on roll necks and helical groove in the bore
In most rolling mill applications, four-row tapered roller bearings are mounted with a loose fit on the roll neck. This enables quick roll changes. However, loose fits have the disadvantage that the inner rings turn on their seats under load. To reduce the effects of a loose fit, SKF bearings have a helical groove in the bore and/or lubrication grooves in the side faces of the inner rings (
fig. 1
). These grease-filled grooves enable lubricant to be supplied between the inner rings and seat surfaces. In addition, the grease-filled grooves can absorb wear particles.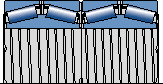 Roll neck hardness requirements
In case of loose fits, SKF recommends the following seat surface hardness for roll necks:
shaft (radial seat surface) → 45 Shore (≈ 34 HRC)

axial abutments → 60 Shore (≈ 45 HRC)
Axial location of inner rings on the roll neck
The inner rings of TQO design bearings must not be axially clamped on the roll neck. There must remain an axial clearance between the bearing rings and their abutments of 0,4 to 1,3 mm (
fig. 2
).