Single row cylindrical roller bearings

SKF super-precision single row cylindrical roller bearings in the N 10 series (
fig. 1
) have, as standard, a 1:12 tapered bore (designation suffix K). A tapered bore is preferred because the taper enables accurate adjustment of clearance or preload during mounting. The bearings have two integral flanges on the inner ring and no flanges on the outer ring. To improve lubricant flow, these bearings can be supplied with a lubrication hole in the outer ring on request.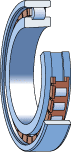 Basic design bearings
Basic design single row cylindrical roller bearings are equipped as standard with a roller centred PA66 cage without glass fibre reinforcement for bore diameters up to 80 mm (designation suffix TN), and with glass fibre reinforcement for larger sizes (designation suffix TN9). These bearings are well suited for most precision applications.
High-speed design bearings
The internal geometry and cages of high-speed design single row cylindrical roller bearings have been optimized to accommodate higher speeds. High-speed design bearings contain fewer rollers than basic design bearings. They are equipped with either an asymmetrical cage, made of glass fibre reinforced PEEK (designation suffix TNHA), or a symmetrical cage, made of carbon fibre reinforced PEEK (designation suffix PHA). Both are outer ring centred cages, designed to optimize the effectiveness of the lubricant and avoid kinematic lubricant starvation at high speeds. When comparing the two cages, the symmetrical PHA cage provides better guidance and promotes better lubrication conditions for superior performance.
Compared to bearings with a glass fibre reinforced PEEK cage, bearings with a carbon fibre reinforced PEEK cage can accommodate speeds up to 30% higher in grease lubricated applications and up to 15% higher when lubricated with an oil-air system.
For applications like the non-tool end of a motorized spindle, where the requirement for higher speed outweighs that for higher rigidity, bearings containing cages with half the number of rollers can be supplied on request.