How Supergrip works
The bolt is threaded at both ends and has a tapered shank. An expansion sleeve with a corresponding tapered bore fits over the shank. Two nuts complete the unit (
fig 1
). The outside of the sleeve is cylindrical and dimensioned for an initial clearance fit in the bolt hole corresponding to 0,05 to 0,15% of the bolt hole diameter. There is no high surface finish requirement in the hole. Normal boring is sufficient.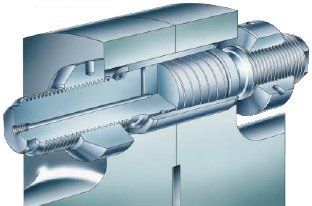 The bolt is inserted into the hole by hand. The sleeve is expanded to a radial interference fit by drawing the tapered shank into the tapered bore of the sleeve. The bolt is then hydraulically tensioned against one nut while the other nut is hand tightened. A preload is exerted on the bolt by releasing the pressure on the tensioner.
Preloading will cause a slight reduction in the bolt diameter. However, this contraction has already been offset by the expansion of the sleeve. Sleeve expansion and tensioning of the bolt are carefully controlled by using the hydraulic tensioner included in the tool set.
For removal, the bolt is released from the sleeve by injecting oil between the mating tapered surfaces. The oil is fed through a connection in the center of the bolt.
The working pressure of the hydraulic tensioner is 150 MPa (21 300 psi). A pressure gauge on the pumps permits accurate control of the expansion and tensioning forces.