"By improving performance and efficiency, we've reduced costs by more than SEK 5,3 million."
Ari Palannen, Production Channel Technician, SKF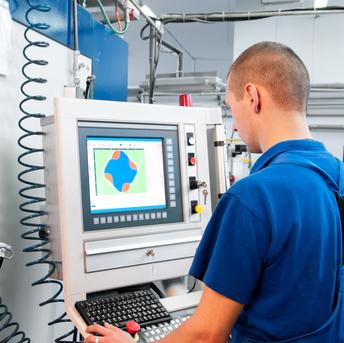 To keep up with a growing demand for spherical roller thrust bearings, the LT4 production channel at an SKF factory had to improve performance and efficiency. They turned to SKF Solution Factory. A series of solutions were then implemented – improving the reliability, availability and accuracy of machines, while helping to reduce costs by more than SEK 5,3 million.
The challenge
The LT4 production channel was working round the clock to meet world demand for spherical roller thrust bearings. However, machine breakdowns and machine inaccuracies were slowing things down and resulting in extra costs for unplanned maintenance and production waste. In addition, operators had to lift heavy materials, potentially leading to back injuries and unnecessary sick leave, and perform manual relubrication operations in almost impossible to reach positions. Something had to be done.
The solution
Claes Lysell, production line manager, turned to SKF Solution Factory. SKF engineers quickly identified a range of proven solutions that would help him make the necessary improvements. "The switch from being reactive to proactive is never easy. But the benefits of having a proactive maintenance approach clearly make it worth the effort." 
The most valuable assets in a production line are people. SKF designed a solution utilizing actuators to tilt heavy boxes with bearing parts into the right assembly position for the operators – minimizing injurious and harmful turning and lifting movements.

Machine uptime was increased using a Streamlined Reliability Centered Maintenance program. The result was a complete maintenance strategy for the production lines bottleneck equipment, clearly describing what needs to be maintained, how often and by whom. 

Detecting and preventing problems prior to failure may seem impossible. With condition monitoring equipment such as SKF Microlog, on-line spindle monitoring and high-voltage motor testing equipment as standard components in the maintenance routines, proactive maintenance is taken to the next level. In fact, an unplanned three-week production stop was prevented when the routine diagnostics showed that an electric motor was starting to fail.

To enable an even smoother operation, and to increase operator security, a centralized lubrication system was installed. The system makes sure that all grinding, hard turning, honing and assembly line machines can rely on getting the right lubricant, in the right amount, at the right place, at the right time.

Reducing energy consumption is becoming more and more important. Not only to reduce costs, but to minimize the environmental impact of industrial operations. The production line used SKF Client Needs Analysis – Energy and Sustainability. They can now benchmark improvements over time and compare their results to the relevant industrial average. 

Customer value
Effectively managing assets throughout their lifecycle can deliver real and ongoing value and reduce total cost of ownership. For the LT4 production channel, this approach is making the difference. "By improving channel performance and efficiency, we've reduced costs by more than SEK 5,3 million – and we're still counting," says Ari Palannen.
"The investments in our people with training and the latest maintenance equipment – together with machine improvements based on thorough analysis and condition monitoring – have resulted in a better working climate, for both machines and operators. Ultimately, all this is reflected on the bottom line."

The LT4 production channel challenged us. Now it's your turn.