Needle roller / angular contact ball bearings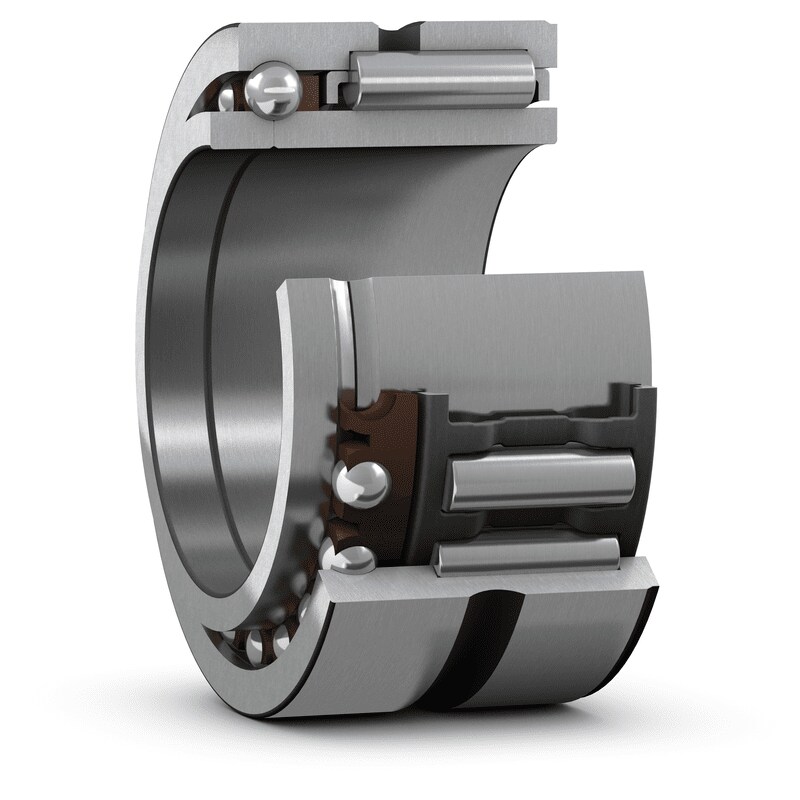 These combined bearings:
consist of a radial needle roller bearing and an angular contact ball bearing

accommodate heavy radial loads, carried exclusively by the needle roller bearing

accommodate light axial loads, carried exclusively by the angular contact ball bearing

are low cross section bearings

can operate at high speeds

are separable, i.e. the inner ring can be mounted separately from the outer ring and rolling element and cage assemblies

can be grease or oil lubricated, depending on the application
In the case of grease lubrication, both the needle roller and angular contact ball bearings should be filled with the same lubricant prior to mounting.
NKIB series bearings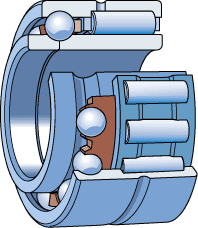 can locate the shaft in both directions (fig. 2)
have axial clearance, between 0,08 and 0,25 mm

have a two-piece inner ring to facilitate mounting
When mounting the inner ring, it is important that the two pieces are axially clamped to one another.

have inner rings, which are not interchangeable with those from another seemingly identical bearing (keep together as supplied)
Relubrication features
The needle roller bearing used in combined bearings has an annular groove with one lubrication hole in the outer ring.