Buffer seals incorporating slide rings
S9B profiles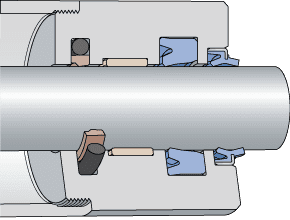 S9B profiles (
fig. 1
) have a nitrile rubber (NBR) O-ring energizer and a PTFE slide ring as standard. Depending on the application, SKF can manufacture the slide rings from a variety of PTFE materials. On request, SKF can supply these profiles also with X-ECOPUR polyurethane (TPU) slide rings for improved wear resistance and ease of installation compared to PTFE. S9B profiles with a PTFE slide ring are suitable for pressures up to 400 bar
(5 800 psi)
, those with an X-ECOPUR slide ring up to 600 bar
(8 700 psi)
. These profiles are suitable for medium to heavy duty applications. Both material combinations are available in metric (→
Size list [pdf]
) and inch sizes (→
Size list [pdf]
), some metric sizes fit seal housings in accordance with ISO 7425-2:1989 or ISO 3320:2013. For additional information, refer to
S9B profile data
.
RSB profiles
RSB profiles (fig. 2) have a nitrile rubber (NBR) energizer and a PTFE slide ring.
The energizer is designed to hold the slide ring in the proper and permanent sealing position against the rod seal side of the housing. Conventional buffer seal designs can shift axially within the groove and push fluid into the rod seal groove when subjected to abrupt pressure peaks. This ultimately causes rod seal failure. However, the patented design of RSB profiles prevents any axial shifting of the slide ring. Therefore, these profiles protect the rod seal in applications where conventional buffers are not sufficient. In combination with grooves in the energizer outside diameter and notches in the front face of the slide ring (fig. 3), the protrusions also ensure that pressure can return to the system side.
RSB profiles are suitable for pressures up to 400 bar (5 800 psi) in medium to heavy duty applications and are available in inch sizes (→ Size list [pdf]). For additional information, refer to RSB profile data.
On request, for the most demanding applications of large equipment, SKF can manufacture these profiles with polyamide (PA) slide rings for additional extrusion and wear resistance.