HDS7 - SKF Flex seals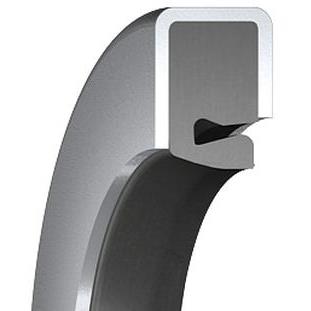 The ingress of water and solid contaminants is a common cause of bearing failures. To solve this, SKF developed the HDS7 seal with enhanced exclusion capabilities (
fig 1
). It was originally designed for grease lubricated bearings in rolling mill stands, where water and scale are a constant threat to bearing service life. The HDS7 is also recommended for use in large gearboxes, coal pulverizers and cement grinders. Customers have reported that the HDS7 seal is easier to install and provides longer service life than similar seal designs.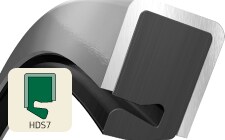 The HDS7 seal features an optimized non-spring-loaded lip profile, designed to retain grease and aggressively pump contaminants away from the lip. The lip concept of HDS7 seals also reduces radial loads, which otherwise can lead to elevated underlip temperatures and increased seal wear.
The HDS7 seal is available with a nitrile sealing lip for general use, SKF Duralip for increased wear resistance in abrasive environments and SKF Duratemp that combines improved wear resistance with increased temperature capability. For certain applications, SKF Duralife can also be specified. For additional information about different sealing lip materials, refer to the section
Sealing lip materials
.
HDS7 seals are available for all shaft diameters within the ranges listed in the
table
. A selection of available sizes is listed in the product table. Contact your SKF sales representative for additional information regarding availability.