Internet of Things and connected devices
With the rapid growth of the Internet of Things in recent years, interconnected machine parts, data streams and mobile smart devices are being used on an industrial scale and impacting the way we work.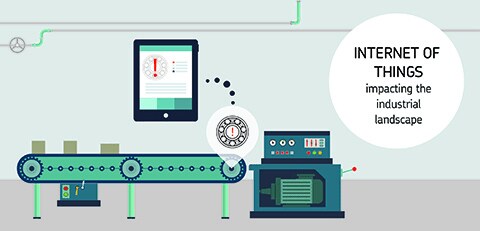 Internet of Things: the economic potential
The potential economic gains from the Internet of Things are incredible. McKinsey has estimated that implementing the Internet of Things across factories and worksites can yield an economic value of $160 billion to $930 billion per year by 2025.
These staggering gains would be realized through cost savings, productivity improvements, increased uptime, and new revenue opportunities. The most significant impact however would come from improvements in operating efficiency, which could have an economic impact of nearly $470 billion per year across worksite industries by 2025.
Enablers of (and barriers to) the Internet of Things
Despite the tremendous promise the Internet of Things holds for factories, plants and engineers, the fact is, improvements in skills, technology and processes are needed to realize its full potential.
Product designers need to start designing products that enable the Internet of Things, while industry overall must be focused on attracting and retaining workers with very different skill sets. Currently, there is a general lack of capabilities in most industrial organizations to utilize the Internet of Things and its related systems and data.
To implement the Internet of Things effectively, industry must focus on improving analytics – algorithms that can interpret and act on the flow of real-time data from many machines. As it stands now, only a small fraction of the data generated by production machinery is actually used for decision making. A more systematic and intelligent way of working with analytics will ultimately help companies use more of the information they collect for optimization and prediction.
SKF: A new approach to bearing health management
While there may be a long way to go to take full advantage of the Internet of Things, valuable solutions are already available.
Recent innovations from SKF now enable bearings to communicate their operating conditions in real time, with integrated intelligence including wireless sensors, data acquisition electronics and self-powered solutions.
This technology, called SKF Insight, enables operators to see how dynamic operating conditions are affecting bearing health and machine condition in real time. Operators can use this information to adjust operating conditions or make automated interventions, such as lubrication. This can help to prevent bearing damage before it occurs, effectively extending the life of the bearing. Ultimately, this means better maintenance planning and helps to avoid costly unplanned stoppages.
Like to explore the idea of working with SKF Insight? Read more here.