The case of Replacement Asset Value

Is your maintenance cost-effective?
Maintenance cost per Replacement Asset Value (RAV) over the years has become a commonly used Key Performance Indicator (KPI) across a wide range of industries.
Replacement Asset Value represents both a good "baseline" metric for evaluating whether any progress, or not, has been made in an improvement program and an excellent universal benchmark measure of operating asset performance success.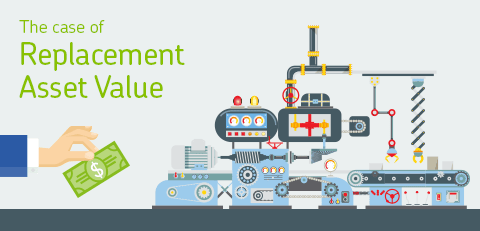 The basics of Replacement Asset Value (RAV)
In its basics, the Maintenance Cost per Replacement Asset Value tells you how well your expenditure on capital equipment is maintained.
For example, at 20% Maintenance Costs per Replacement Asset Value, your maintenance expenditures are so high that you actually could buy a completely new plant for your operation every five years.
On the other hand, operating at 2% Maintenance Cost per Replacement Asset Value, your plant can be in operation for 50 years before your maintenance expenditures exceeds the worth of getting a new plant.
The practice of learning from maintenance and operating actions
As with other things, a site that learns through continuous improvement practice, from maintenance and operation actions taken, will ultimately reduce its maintenance costs when compared to the site's Replacement Asset Value.
If continuous learning and improvement of practice isn't a part of the plant maintenance tactics, then the site will sustain current levels of costs or even more by continuing working with the same processes with the same techniques and behaviors.
To grow its competitive advantage, a brand new facility with new employees, processes and technologies must therefore go through a learning curve.
In terms of reliability performance, growing from poor to good, to better and ultimately the best can be a long and challenging process, as each failure must be examined and evaluated as well as root causes must be eliminated.
However, in the end it can all be summed up to one important thing: LEARNING.
By learning from its mistakes and successes, a site will face less failures over time. Naturally, this equals to less costs as the life-cycle of a plant is extended and downtimes are reduced.
In its basics, continuously working with and measuring Maintenance Cost per Replacement Asset Value is how you can make your plant maintenance truly cost-effective.
Learn more about, how to work with Maintenance Cost per Replacement Asset Value. Read the original contribution by the Strategic Programs Manager at SKF, John Yolton, here.