K-CBS Circumferential Barrier Seal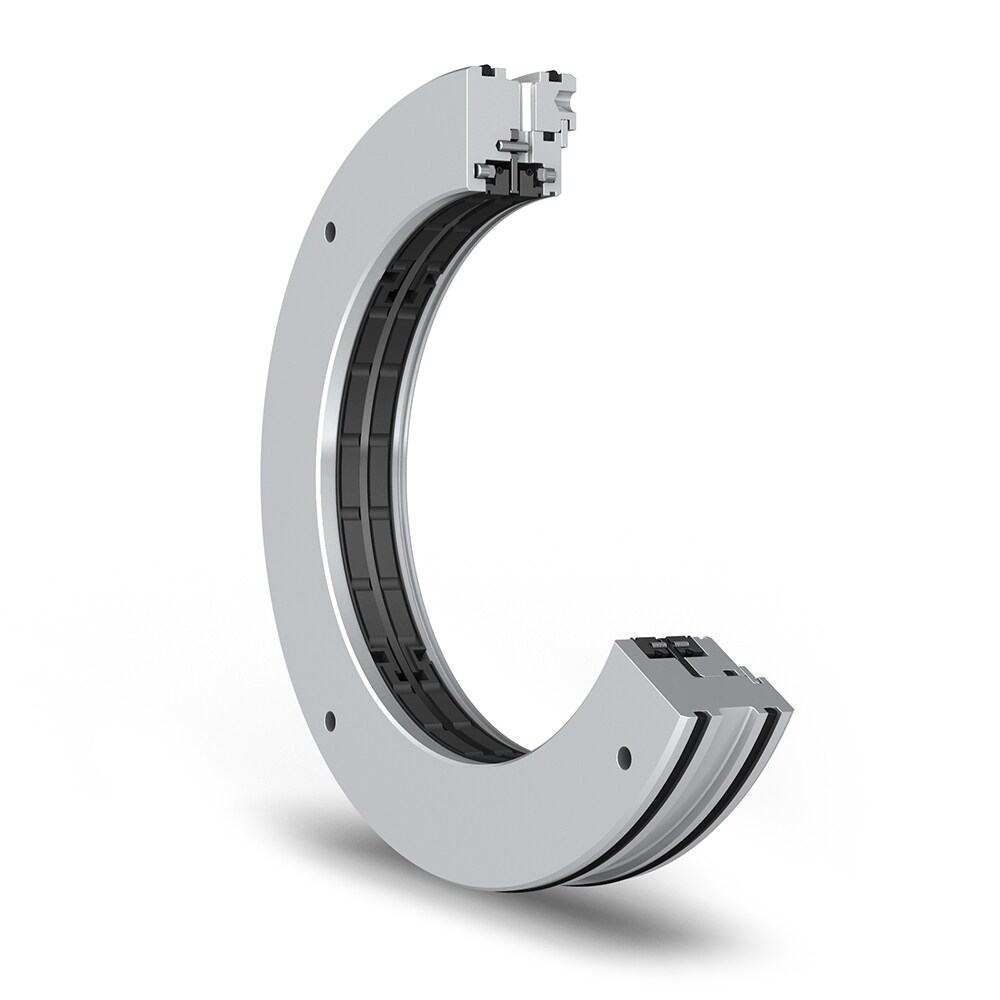 Kaydon Ring & Seal pioneered the use of circumferential sealing technology for compressor separation seals, isolating dry gas seal cavities from bearing lubricating oil. Today, Kaydon continues to advance circumferential seal design and manufacturing through research and development activities, tackling the most demanding applications and remaining at the forefront in product performance and reliability.
The K-CBS separation seal consists of segmented carbon rings that act as a wedge between the stationary housing and a hard-coated rotating shaft surface. The seals are buffered with gas at a pressure slightly higher than that of the cavities being separated. The seal rings are preloaded by a combination of radial garter springs and axial compression springs. Contact forces are minimized by pressure dams in both the side face and bore of each ring, which in turn minimizes wear and allows the seal rings to freely follow the movement of the shaft. The rings are designed with an initial overlapping clearance between segment ends. As the bore of the seals wear, the clearance decreases until the segment ends butt together. At this point, the ring is archbound and continues to function as a clearance seal, providing the same reliable performance.
Features and Benefits
Prevents bearing oil contamination of dry gas seal

Provides final protection against process gas escape in the event of dry gas seal failure with structural integrity of 800psi+ [55bar+]

Controlled separation seal gas leakage of .1 scfm per inch diameter per seal ring at 15psig [1bar]

Expected run time of 40,000hrs+ prior to archbound condition

Compact size allows for retrofit of most labyrinth seals

Specialty materials available for low-dewpoint gases

Field rebuildable with Kaydon supplied carbon kits

May be combined with K-DGS dry gas seal for single DRYPLEX™ cartridge assembly
May be applied as main shaft seal in K-MRC configuration
Applications
Natural gas transmission

Pipeline booster compressor shaft seals

CO2 re-injection and natural gas compressor shaft seals
Natural gas processing plants

Propane refrigeration, sales gas, raw gas, residue gas compressor shaft seals

LNG boil-off and refrigeration compressor shaft seals

Refinery

Hydrogen recycle, platformer, reformer, wet gas, coker, alkylation, isomerization, flare gas recovery

Petrochemical

Ethylene, propylene, polypropylene, charge gas, propane refrigeration, iso-butane, ethylene oxide, styrene off-gas, low density polyethylene (LDPE), linear low density polyethylene (LLDPE), polyethylene, carbon monoxide, methanol, synthesis gas, ammonia refrigeration, acetylene, feed gas
Why Kaydon Ring & Seal?
Decades of experience and thousands of installations allow Kaydon engineers to understand and solve some of the industry's most demanding separation seal applications. Customers choose Kaydon K-CBS for its superior performance and reliability.

Kaydon has the broadest range of compressor seal types available in the industry.  Our goal is to supply you with the best solution for your circumstances, whether it is repair, upgrade or replacement of your existing seal.