Kaydon Gas Control Systems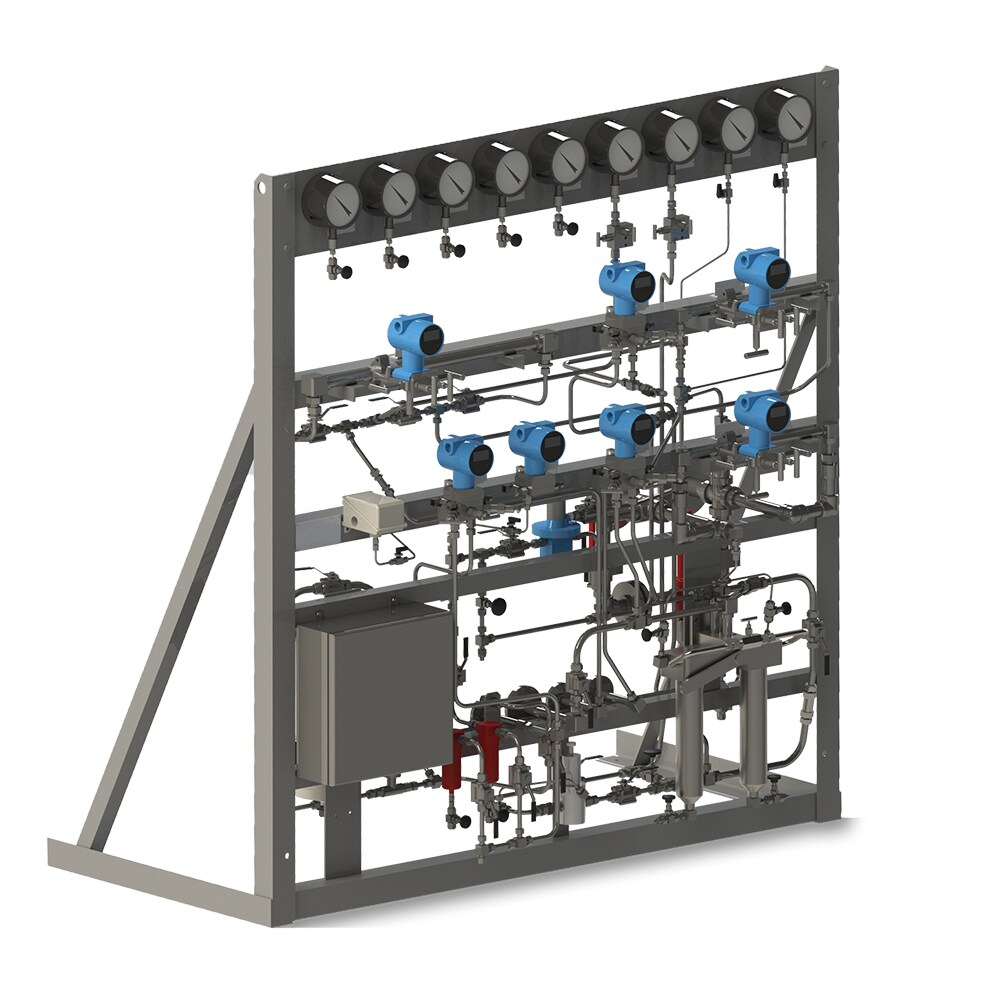 Seal gas control systems are essential to the success of any gas seal installation.  They provide gas filtration, gas pressure and flow control, and measurement of flows and pressures. The addition of a Kaydon Ring & Seal Gas Control System to your gas seal installation will ensure that the gas going to your seals meets or exceeds the requirements of your seals, and will provide you with tools necessary to monitor seal health and performance over time.
Each Kaydon control system is designed specifically for the application and budget. A system concept is developed with consideration for safety, piping and electrical regulations, and reliability requirements that will suit the particular needs of the application as well as the proper function of the seals. Concepts are transferred to P&ID drawings, general arrangement models, and electrical schematics that can be used to support final construction and site installation.
Upon assembly, each system is subjected to pneumatic testing of all gas lines and continuity testing of all instruments and transmitter signals to assure proper operation. The final product is delivered ready to install.
Features and Benefits
Proper conditioning of seal gas to meet the requirements of the seals used

Monitoring of seal performance and health

Allows for remote operation of compressor

Alarms and callouts for seal upset conditions

Shutdown in the event of a catastrophic seal failure or seal loss of seal gas

Coordination and integration with customer-preferred component suppliers
Dry Gas Seals
Applications
Natural gas transmission

Pipeline booster compressor shaft seals

Natural gas and CO2 re-injection compressor shaft seals
Natural gas processing plants

Propane refrigeration, sales gas, raw gas, residue gas compressor shaft seals

LNG refrigeration and boil-off compressor shaft seals

Refinery

Hydrogen recycle, platformer, reformer, wet gas, coker, alkylation, isomerization, flare gas recovery

Petrochemical

Ethylene, propylene, polypropylene, charge gas, propane refrigeration, iso-butane, ethylene oxide, styrene off-gas, low density polyethylene (LDPE), linear low density polyethylene (LLDPE), polyethylene, carbon monoxide, methanol, synthesis gas, ammonia refrigeration, acetylene, feed gas

Why Kaydon Ring & Seal?
Increase the reliability of your seal operation by having the support system designed and built by seal experts.  Kaydon engineers can evaluate seal issues and develop system solutions that can lead to better, longer equipment runs, protecting your seal investment and improving overall reliability.