Bearings and rod ends requiring maintenance

Bearings and rod ends requiring maintenance must be greased prior to being put into operation. With the exception of a few applications, they must be relubricated periodically.

SKF steel/steel radial spherical plain bearings are made of bearing steel and are through-hardened. The high-strength sliding contact surfaces are phosphated and treated with a special running-in lubricant. These bearings are used primarily in applications where there are:
heavy static loads

heavy alternating loads

shock loads
They are also relatively insensitive to contaminants and high temperatures.

To facilitate relubrication, lubrication holes and grooves are provided in both the inner and outer rings of all steel/steel radial spherical plain bearings – with the exception of a few small sizes. SKF steel/bronze rod ends also require relubrication. However, requirements are less stringent than for steel/steel rod ends, as the emergency running properties of bronze are more forgiving than steel.

The multi groove system
Standard steel/steel radial spherical plain bearings that must accommodate minor alignment movements under very heavy, constant direction loads are prone to lubricant starvation. To maximize the effects of the lubricant under these conditions, SKF has developed the multi-groove system and manufactures these heavy-duty spherical plain bearings with the multi-groove system on the sliding surface of the outer ring (
fig. 1
).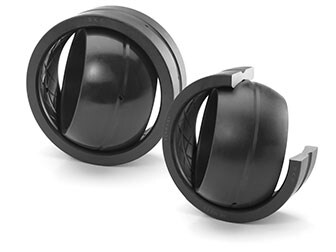 These bearings are identified by the designation suffix ESL, the lubrication grooves provide the following benefits:

improved lubricant supply to the loaded zone

enlarged lubricant reservoir in the bearing

enable relubrication under load

extended relubrication intervals

space for wear particles and contaminants

extended grease life
The main benefit of the multi-groove system is that it improves lubricant distribution in the heavily loaded zone to extend service life and/or maintenance intervals.