Mechanical service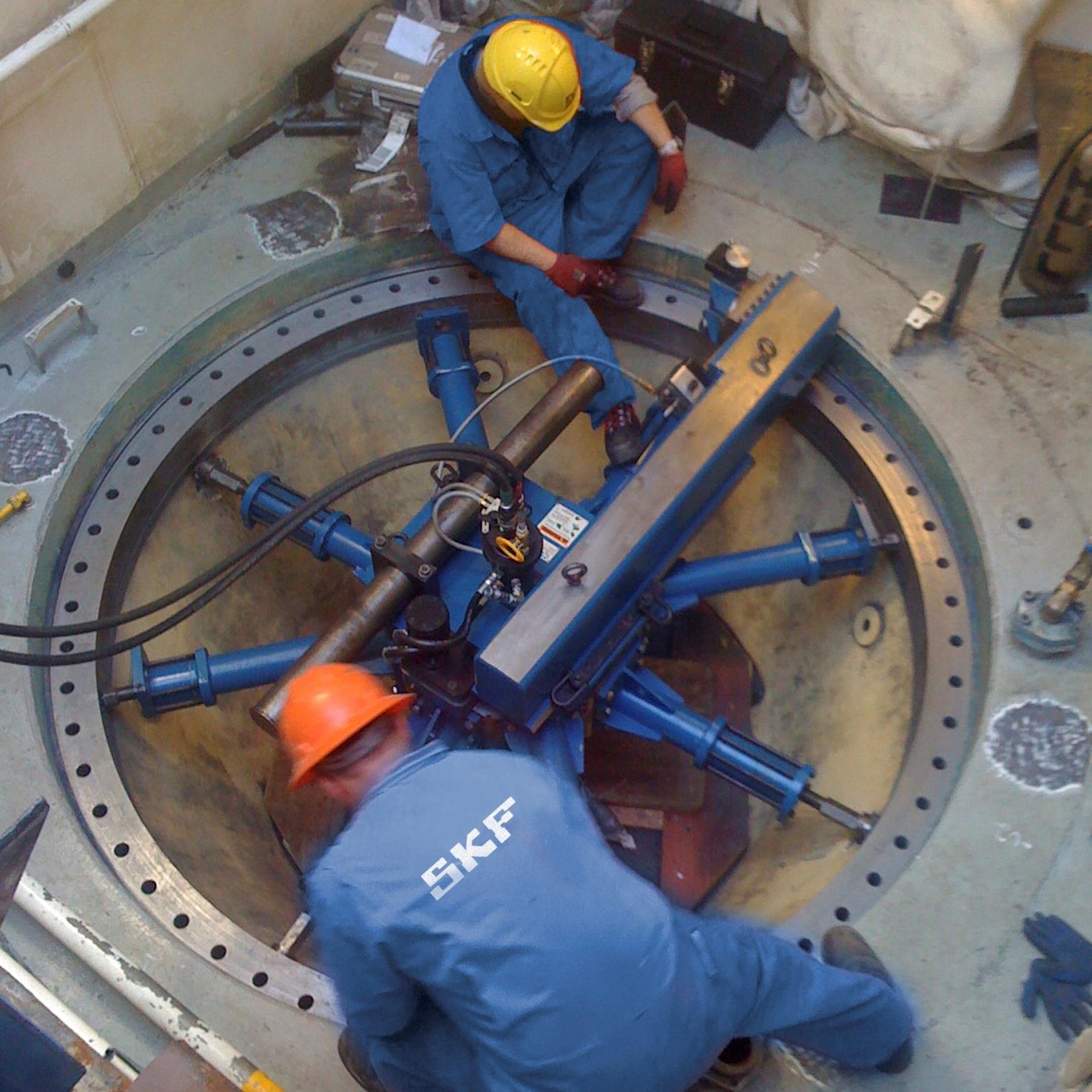 Keeping the expected schedules for dry-dockings is critical in today's marine industry in order to cope with intense competition and challenging margins. Based on the experience of critical on-board machinery, SKF Marine provides a range of time-saving mechanical services related to machinery improvements, replacements and repair.
We offer Machine Support shaft alignment services for the full range of on-board machinery, from the main propulsion shafts and drives, to the smaller yet critical support equipment such as air compressors and cargo equipment. An optimal shaft alignment increases the life of bearings, seals and couplings, but also reduces energy consumption, noise, vibrations and excessive wear. This, in turn, reduces the risk of costly downtime. The Machine Support service team is a specialist with decades of experience in solving alignment issues, and combined with the ShaftDesigner software we provide a range of technologies to provide precision shaft alignment solutions. Measurements performs include:
Dynamic alignment measurements (on vessels in operation)

Static alignment measurements

Geometric measurements
The SKF Marine´s team and service stations worldwide provide a complete range of services for the Simplex shaft components, stabilizers and steering gears, and oily water separators. The company maintain a 24 hours after sales service including:
Optimal advice on replacement parts based on the ship's history

Excellent OEM quality

High availability of replacement parts and fast express delivery

Qualified service engineers worldwide

Uniform service reporting worldwide
Ship operational service:
Fast, competent maintenance and check that all components are inworking order

Technical advice, fault finding and system optimisation

Provision of regular service information
Engineering consultants providing technical advice, fault finding, system optimization and advice on replacement parts based on the ship's history.
A third area of mechanical services is related to mounting, which is one of the critical stages of the machinery and bearing lifecycle. If the bearing is not mounted properly using the correct method and tools, the bearing's service lifetime will be reduced.
These services range from mounting and dismounting of large size bearings during dry-docking, as well as supervision services at machine builders, helps to ensure bearings are installed properly. SKF Marine also provides services for developing mounting instructions and guidelines, to help operators minimise the risk related to handling of bearings.