Mounting and installation

Mounting and installation solutions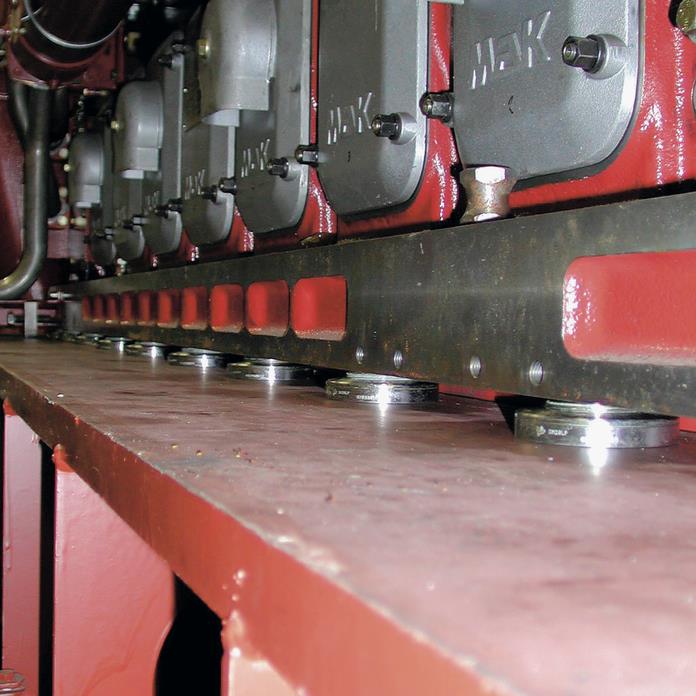 In addition to mounting couplings, sterntube seals, bearing units and more, SKF Marine can provide expert chocking of all kind of installations.
The Marine begins by calculating chocking requirements for all required elements of the propulsion train. These calculations are in line with classification society requirements and provide precise details for the possible chocking solutions.
SKF Marine provides chocking for:
Shaft line bearings

Sterntubes

Deck equipment

All kind of machinery
SKF Marine chocking solutions include: Vibracon, Epocast®, steel shims, vibration dampers and classic metal chocks.
• SKF Vibracon original:
these elements are machinery mounting chocks that are easily and accurately adjusted. The elements accommodate the angular difference between machine and the mounting base without expensive machining of the base or extra work of installing epoxy resin chocks. The self-leveling capability combined with the height adjustment feature eliminates the possibility of a soft foot in the production line through the life cycle of the machinery.
• Surface treated SKF Vibracon:
SKF Vibracon chocks are permanent, and re-usable machinery mounting chocks for all types of rotating or critically aligned machinery. Many installations where the SKF Vibracon chocks are applied can be found in tough, humid and salty climates, where protection against corrosion is advised. To cater for this need, SKF has been testing different solutions resulting in the surface treated SKF Vibracon chock.
• SKF Vibracon low profile:
the low profile elements offer an economic solution for repair projects or fixed-design systems where expensive filled chocks, shims or epoxy resins were previously applied. SKF Vibracon low profile configuration addresses those applications where the chock height between the foundation and component has been established by the previous design.
• Spherical washers
are an excellent complement to adjustable steel chocks. Spherical washers support a four degree angular difference between the mounting base and the machine, allowing for optimal mounting of machinery. Advantages include automatically re-adjusting to the required angle and eliminating the need to spot face underneath the foundation, which is often impossible due to lack of space.
• Pourable epoxy resins
are particularly useful in filling up irregularities.
Epocast 36® is an epoxy resin chock for mounting main and auxiliary engines, gear boxes, steering gears, thrust bearings, stern tubes, etc. Its main benefits are the ability to fill any reasonable irregularity in the chocking interface and to reduce noise and vibration.

Epocast 36-P is a trowelable two-component epoxy paste specifically developed for installation of LNG/LPG tanks, chemical tanks and containment systems. Unlike the standard Epocast, it can be used in applications where a freely floating resin is not practical.