SKF Enlight Quick Collect
QuickCollect Sensor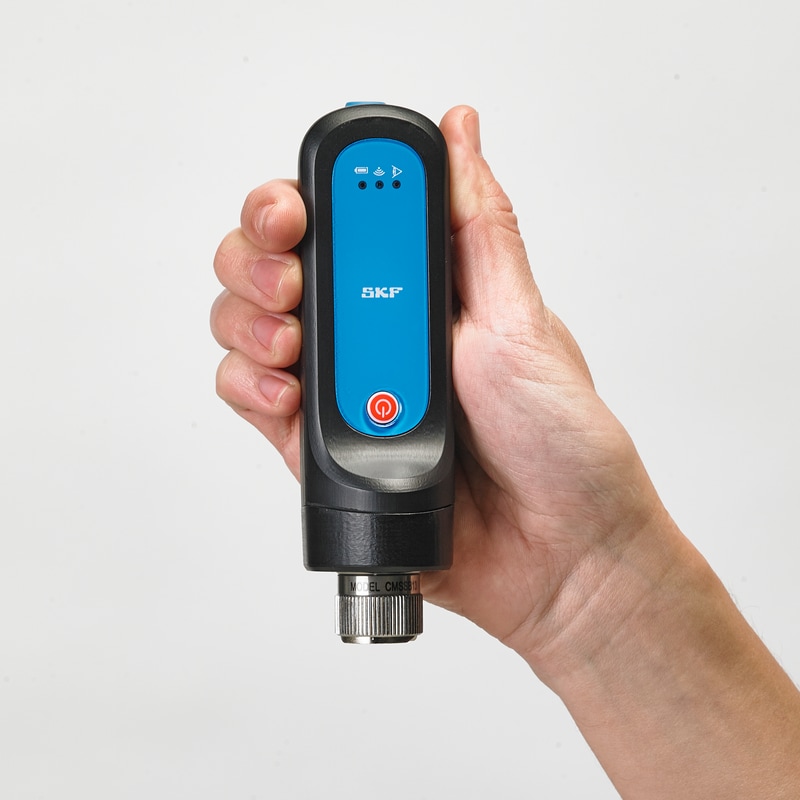 The SKF QuickCollect sensor is an easy to use bluetooth enabled handheld sensor that connects to apps that work with both iOS and Android tablets and smart phones (and iOS smart watch). Combining vibration and temperature sensing, overall data can be viewed on the spot in real time or pushed to the cloud for future analysis.

This SKF QuickCollect sensor is ideal for service, reliability, operations, or maintenance personnel as part of a walk around data collection program.
Features
Velocity, acceleration enveloping, and temperature measurements

Bluetooth communication with tablets, smart phones, smart watches

Easy to use sensor and apps

Easy to understand indications of machine condition

Rugged industrial design – Drop test 1,8 m (6 ft.), water and dust resistant (IP65)

Suitable for use in hazardous environments (ATEX Zone 1, Class 1, Div 1) (pending)

Rechargeable lithium battery (8 hours normal usage)

Option to connect, store and share data on the Cloud


Option to connect directly to SKF Remote Diagnostic Services

Connects to apps that work with both iOS and Android tablets and smart phones (and iOS smart watch).

Benefits
Gets you started quickly

Can be used with minimum training and experience

Identify developing rotating machinery issues before they become problems

Connect directly to expert advice when you need it


Expand functionality via apps to grow and compliment your existing maintenance program
SKF QuickCollect Sensor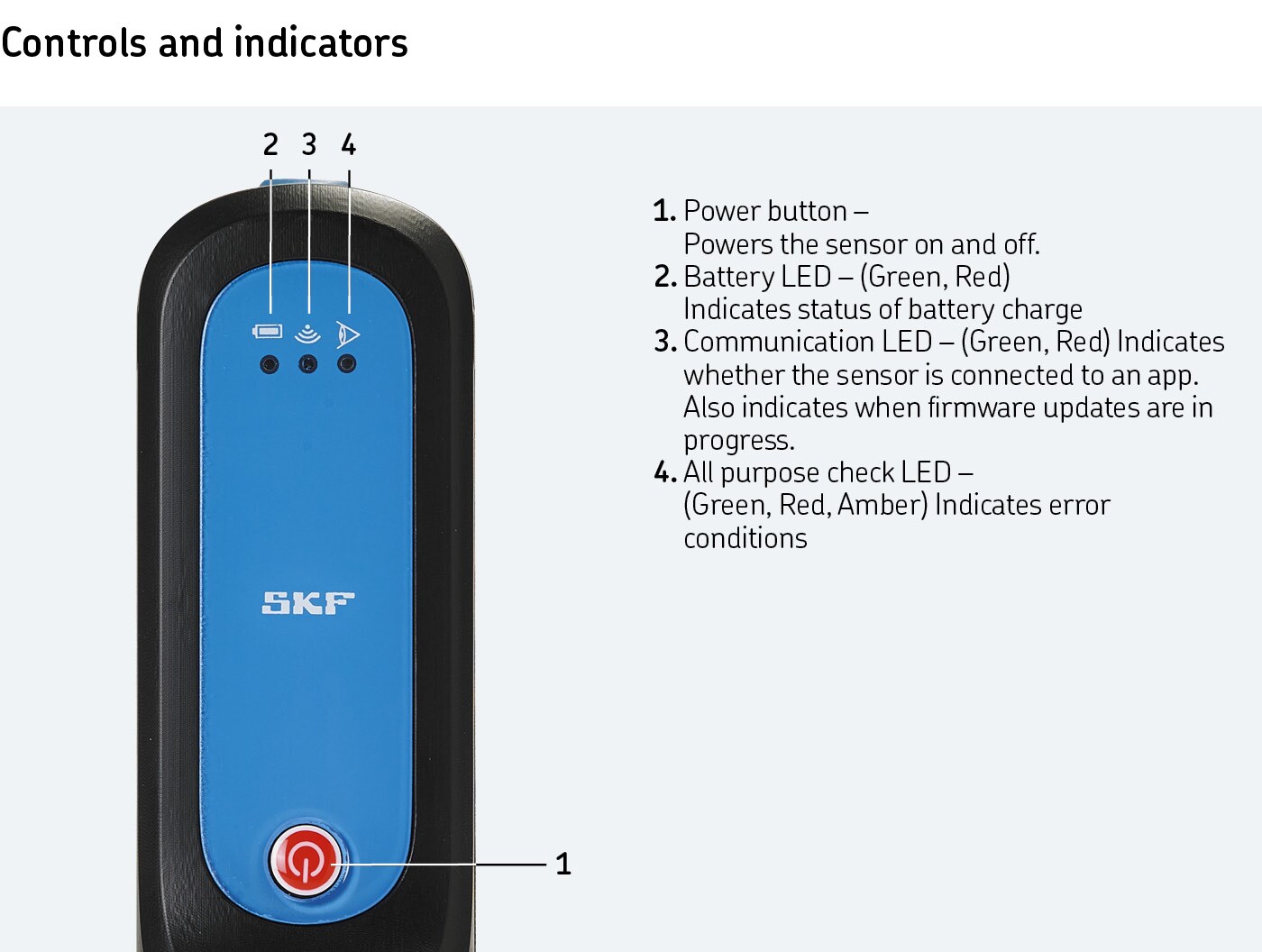 Measurement displays
Measurements taken by the sensor are shown on your mobile device, which displays velocity, acceleration, and temperature as shown below.
Each reading displays a current overall measurement, including alarm status, minimum and maximum values, and alert and danger thresholds
Measurement displays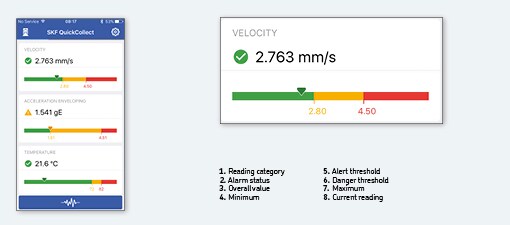 SKF Enlight QuickCollect System
The SKF QuickCollect sensor can be used with the SKF QuickCollect app, or with SKF DataCollect app which provides additional functionality, including the ability to store and share data via the SKF cloud, and to directly access SKF Remote Diagnostic Services.
SKF Enlight QuickCollect System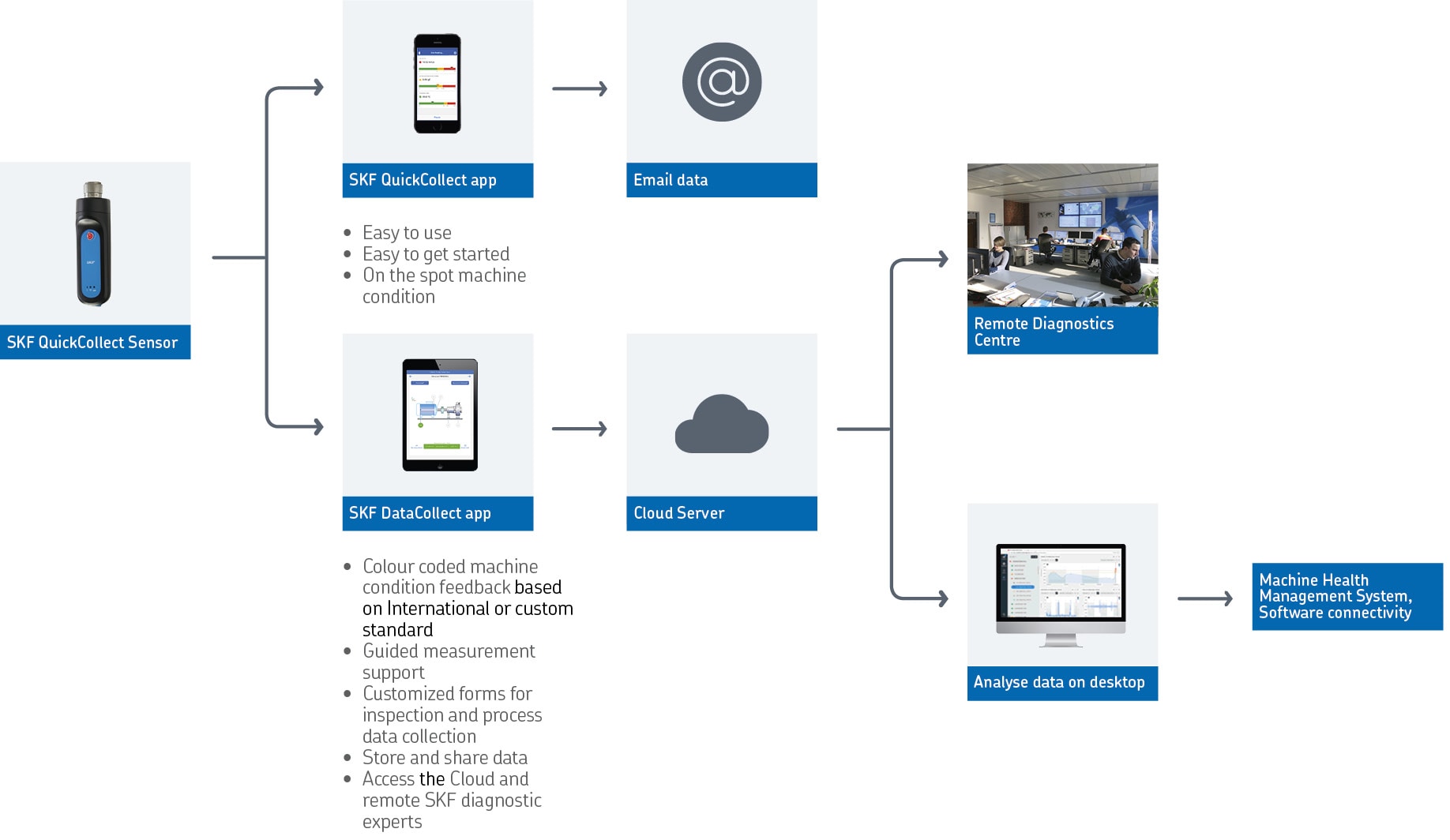 Technical specifications (CMDT 390-K-SL)
Environmental and regulatory specifications
Temperature range
Non-hazardous areas: –20 to +60 °C
Hazardous areas:
–20 to +60 °C
Charging:
0 to +40 °C
Humidity
95% non-condensing
IP rating
IP 65, Dust and water ingress protection testing standard.
Hazardous approval (North America)
Class 1 Division 1 Group A, B, C, D certification Class 1 Zone 1 (pending)
Hazardous approval (Europe)
ATEX Zone 1 certification (pending_Area = II (non-mining) Category = 2G (Zone 1) Ex-ib IIC T4 (pending)

Radio Approvals
Europe (CE), USA (FCC), Canada (IC)
CE Mark
CE approved
Measurement range
Overalls
Velocity:
10 Hz to 1 kHz up to 55 mm/s
Bearing condition:
SKF patented Envelope acceleration up to 20 gE
FFT
Maximum Frequency:
Velocity 1 kHz, Enveloped Acceleration 2 kHz
Lines of resolution:
Velocity 400, Enveloped acceleration 800
Detection type:
Velocity RMS, Enveloped acceleration True Peak to Peak
Power
Main Power
Rechargeable lithium battery, 3,7 V DC. 0,14 A
Battery Lifetime

Eight hours with normal usage
Eight hours with normal usage
Varies up to ±10% of the nominal voltage Transient Overvoltage Category II; Pollution degree 2

Charger
Input 5 V DC ± 10%, 1 A
AC Adapter
Input 100 to 240 V DC, 0,4 A, 47 to 63 Hz Output 5 V DC, 1,6 A
Environmental
Storage Temperature

–20 to +45 °C (–5 to +115 °F) for less than one month

–20 to +35 °C (–5 to +95 °F) for less than six months


Operating Temperature, Battery

0 to +40 °C (32 to +105 °F) for charging

–20 to+ 60 °C (–5 to +140 °F) for discharging


Operating Temperature, Charger
0 to +40 °C (32 to +105 °F)
Altitude
Up to 2 000 m (6 560 ft.)
Humidity
95% non-condensing
Physical
Case
Water and dust resistant (IP65)
Drop test with boot
1,8 m (6 ft.) to concrete
Dimensions
45 x 45 x 135 mm (1.8 x 1.8 x 5.3 in.)
Weight
200 g (7 oz.)