Composite flanged housings
Composite flanged housings are made of leightweight glass fibre reinforced PA6 and have no relubrication feature. For durability, mechanical strength and thermal stability they are reinforced with a "moulded in" steel coil.
Composite flanged ball bearing units are particularly well-suited for applications with relatively high speeds, moderate loads and where reliability and minimal maintenance are key factors.
End covers
To protect the bearing arrangement at the end of a shaft, and to avoid the possibility of an accident caused by an exposed shaft end, composite flanged housings are able to accommodate ECY series end covers (fig. 3). End covers are accessories and must be ordered separately. The designations together with the distance A5 that the end cover protrudes from the housing (fig. 4) are listed in the product tables:
Square flanged housings for insert bearings
Ball bearing square flanged units
Oval flanged housings for insert bearings
Ball bearing oval flanged units
The complete assortment of end covers for insert bearing housings and units is listed in the product table.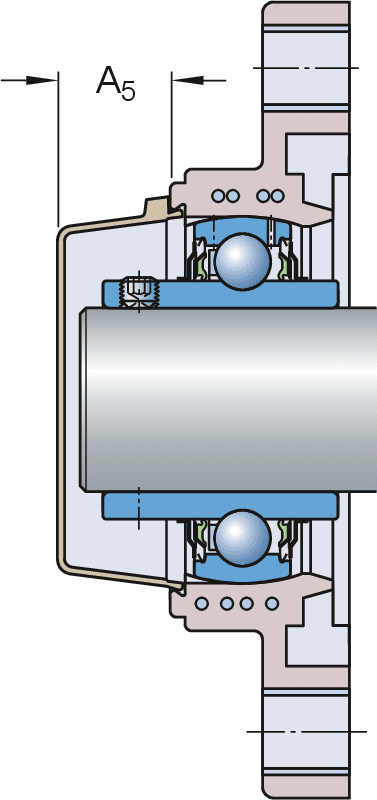 End covers are made of polypropylene (PP), have good resistance to most chemicals and can withstand operating temperatures up to 100 °C (210 °F). They are mounted by snapping them into the recess of the housing.