Maintenance-free spherical plain bearings
Steel/PTFE sintered bronze and steel/ PTFE fabric sliding contact surface combinations
During operation, PTFE is transferred from the dry sliding contact surface of the outer ring to the hard chromium plated steel surface of the inner ring. Any external lubricant on the sliding contact surfaces would disturb this self-lubrication and shorten bearing service life.
As a result, these bearings must not be lubricated and do not have any relubrication facility.
Steel/PTFE FRP sliding contact surface combination
Bearings with this sliding contact surface combination are also self-lubricating and can be operated grease-free.
However, initial lubrication followed by occasional relubrication of steel/PTFE FRP bearings can extend the service life of the bearing by a factor of two or more. The inner rings of radial bearings or shaft washers of angular contact and thrust bearings are coated with a lithium base grease before leaving the factory.
If operating conditions are such that protection against corrosion and enhanced sealing are required, the free space surrounding the bearing (
fig. 1
) can be filled with the same grease that was used to lubricate the bearing. The appropriate time to replenish or renew the grease in the bearing arrangement is determined by the operating conditions and the ageing of the grease.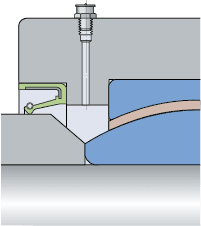 Rust inhibiting, water-repellent lithium base greases with a consistency of 2 on the NGLI scale should be used. SKF recommends SKF LGEP 2 grease (
table 1
). Greases containing molybdenum disulphide or other solid lubricants should never be used.
CAUTION:
Depending on their design, SKF spherical plain bearings are either completely or partially coated with an oily preservative or filled with grease. Avoid skin contact as these substances may cause skin irritation or an allergic reaction.