Spherical plain bearings requiring maintenance
Steel/steel radial spherical plain bearings must be relubricated to:
reduce friction

reduce wear

extend bearing service life

protect against corrosion and contaminants
The sliding contact surfaces are phosphated and treated with a "running-in" lubricant. This special surface treatment has a favourable influence during the running-in phase. The bearings must be greased prior to use and relubricated on a regular basis.
To reliably relubricate the bearings, grease ducts should be provided in the housing (
fig. 1
) or shaft (
fig. 2
) so that fresh grease can be supplied directly to the bearing. All SKF steel/steel radial spherical plain bearings (with the exception of the smallest E and ESA design bearings) have an annular groove and lubrication holes in both the inner and outer rings to facilitate lubricant distribution to the sliding surfaces of the bearing.
If the arrangement is appropriately designed, the bearing can also be supplied with grease from the side. To facilitate the passing of grease through the bearing, the grease should be prevented from exiting the bearing arrangement from the side it is supplied, e.g. by an end cover, and to provide an opening for the grease to exit on the opposite side, e.g. a V-ring seal that can open if there is pressure from the inside (
fig. 3
).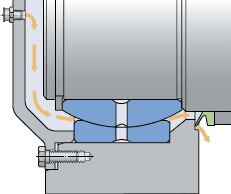 Generally, where possible, the free space surrounding the bearing should be filled with grease.

SKF recommends using SKF LGHB 2 grease to lubricate steel/steel spherical plain bearings. Its properties include:
excellent performance under heavy loads

very good rust inhibitor

very good resistance to ageing

good water resistance

a wide operating temperature range.

If operating temperatures exceed the temperature range limits, special grease should be used (table 1).
For additional information, contact the SKF application engineering service.