Properties
Spherical plain bearings
Spherical plain bearings are standardized, ready-to-mount, mechanical components that enable multi-directional, self-aligning movements. The inner ring has a spherical convex outside diameter, while the outer ring has a correspondingly concave inside diameter (
fig. 1
). The forces acting on the bearing may be static or may occur when the bearing makes oscillating or recurrent tilting and slewing movements at relatively low speeds.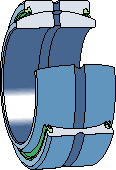 Design advantages inherent to spherical plain bearings include the ability to:
Rod ends
Spherical plain bearing rod ends are bearing units that consist of a spherical plain bearing in the eye-shaped head of the rod end housing (
fig. 6
). They are used primarily on the ends of hydraulic or pneumatic pistons to join the cylinder to an associated component via an internal (female) thread, external (male) thread or a welding shank (
Bearing designs and features
).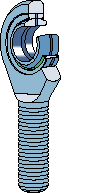 SKF supplies rod ends with a threaded shank with a right-hand thread as standard. With the exception of rod ends with the designation suffix VZ019, all rod ends are also available with a left-hand thread. They are identified by the designation prefix L.