Design considerations
Pins
Pins or shafts should be machined to tolerance class g6Ⓔ:
for normal operating condition, such as stationary inner ring load

where easy displacement of the inner ring is required

Support surfaces
Continuously axial loaded cam rollers should be supported over the entire inner ring side face (
fig. 1
) and the support surface should be dimensioned according to diameter d
1
(→
product table
).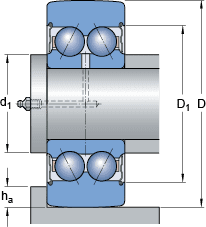 Guide flanges
For rails or cams with guide flanges, the recommended flange height h
a
(
fig. 1
) should be:
The values for the outer ring diameters D and D
1
are listed in the
product table
.