Designs and variants
Single row cam rollers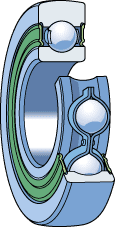 Double row cam rollers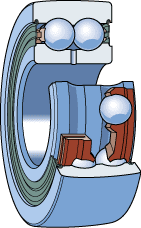 are based on double row angular contact ball bearings in the 32 dimension series (fig. 2)
have a thick-walled outer ring with its running surface available in two designs:

crowned as standard (series designation 3058.. C)

cylindrical (flat) (series designation 3057.. C)

have a 30° contact angle, enabling, together with the two ball sets, tilting moments to be accommodated

are supplied capped in two variants:

with a sheet steel shield on both sides that extends into a recess on the inner ring (designation suffix -2Z)

with an NBR contact seal on both sides (designation suffix -2RS1)

are greased for the life of the bearing under normal operating conditions (table 1)
should be relubricated, if:

subjected to moisture or solid contaminants

they run for long periods at temperatures above 70 °C (160 °F)

have a lubrication hole in the inner ring

Where suitable ducts are provided in the pin, the bearings are easy to relubricate.

The grease should be applied slowly to avoid damaging the shields or seals.
When capped bearings must operate under certain conditions, such as very high speeds or high temperatures, grease may appear between the inner ring and capping device. For bearing arrangements where this would be detrimental, appropriate actions should be taken.