Designs
OKC shaft coupling
The OKC coupling (
fig 1
) has been on the market since the early 40s. OKC couplings are the standard with many well-known controllable pitch propeller manufacturers in the world, but are also used for other applications such as rolling mills, pumps, diesel engines, etc.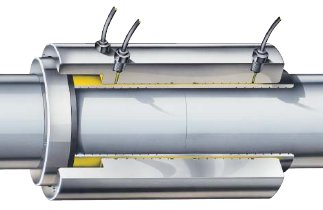 OKCX shaft coupling
The inner sleeve of the OKCX coupling is coated with carbides utilizing advanced plasma technology. This coating increases the torque capacity considerably, some 50% higher than for an OKC coupling of the same size, and gives the OKCX coupling a number of advantages:
higher torque can be transmitted

can support heavier shock forces caused by fast rotation switches

shaft diameter can be reduced

coupling diameter and length can be reduced

coupling weight can be reduced

surface pressure from the coupling can be reduced

reinforcement sleeves for hollow shafts may be dispensed of
OKCS shaft coupling
The OKCS coupling evolved from a special design for engine builders where the torque requirements were less stringent compared to the shaft diameter.
OKCK shaft coupling
The OKCK coupling (
fig 2
), for wind turbines is designed to fit within limited space, and yet still maintain the benefits of more traditional SKF OK couplings: quick and easy mounting and dismounting.
It is designed to create controlled high pressure against the shafts without leaving any tooling permanently in place.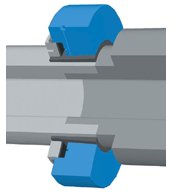 The OKCK Coupling is mounted using oil power. No loud and vibrating pneumatic wrenches are used. Factory mounting time is less than half an hour and the dismounting time is the same. This also applies if the coupling has to be dismounted and mounted on-site.
Practical testing has shown that the OKCK coupling reduces mounting time up to sixteen times compared with mechanical couplings. And only one person is needed to perform the job.
OKF flange coupling
The OKF coupling (
fig 3
) was developed to create a simple connection between a cylindrical shaft and engines or gearboxes having a flange at the thrust shaft. The OKF coupling is available with or without a hydraulic unit for mounting/ dismounting. Since the coupling is mounted on a cylindrical shaft and not fixed by keyways, it can easily be adjusted axially and rotated to the desired position.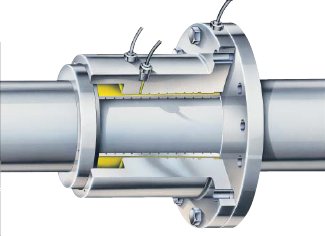 As with mounting the innovative OKC coupling, the OKF coupling requires only a cylindrical shaft. It is based on the principle of transmitting torque by applying a powerful interference-fit with the oil injection method. Mounting and dismounting takes a fraction of the time required with conventional devices.