Mounting arrangements
Locating device for outer sleeve
All OKC couplings for shafts with diameters over 200 mm and OKF couplings for shafts with diameter over 300 mm are equipped with lock levers, which prevent the outer sleeve from being driven up unintentionally on the inner sleeve during transport and when the coupling is being mounted or dismounted (
fig 1
). The lock levers also lock the nut when the coupling has been installed.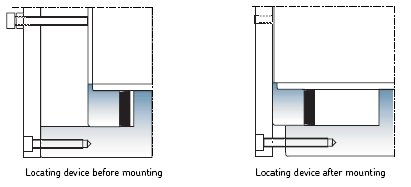 Mounting arrangements for OKC couplings
To facilitate the mounting and dismounting of large OKC couplings, it is advisable to use some type of lifting arrangement. The types of arrangements shown will also allow radial shaft alignment. In both cases the carriages should move in line with the shafts.
Option I
A wheeled carriage is provided with two hydraulic jacks, positioned as shown. This allows the coupling to be adjusted as required (
fig 2
).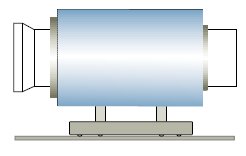 Option II
An overhead carriage with two fixed chain blocks is positioned above the coupling. Lifting ropes are positioned as shown giving the required adjustment (
fig 3
).