Flowline Monitor
Flow rate control and monitoring for oil circulation lubrication systems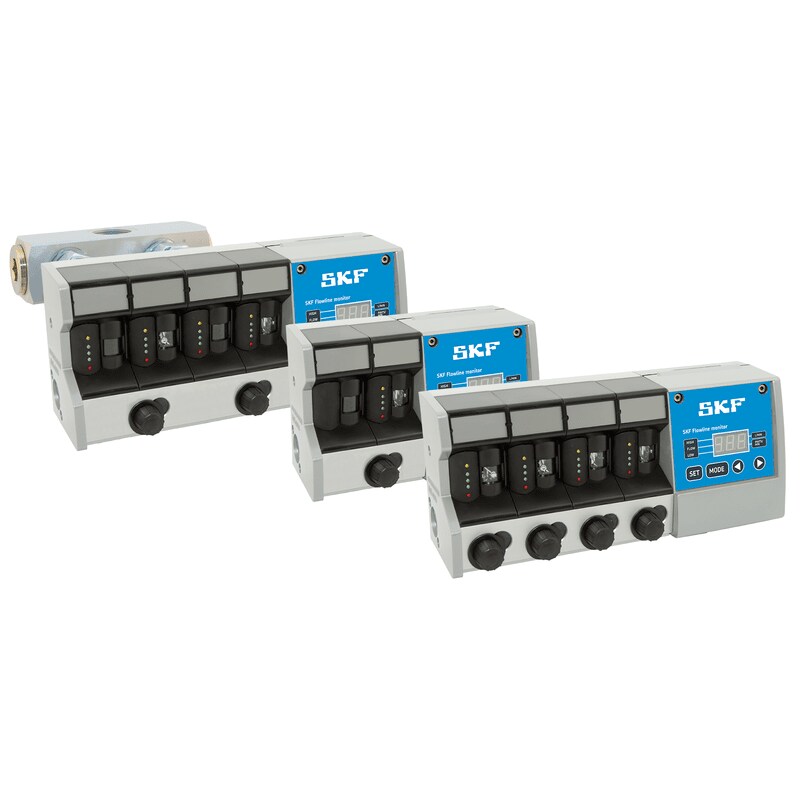 Oil circulation systems are used for lubrication, cooling and particle removal in pulp and paper, mining and many heavy industry applications. The SKF Flowline Monitor measures and controls the oil flow rates in these lubrication systems. The SKF Flowline Monitor is simple to operate and allows operators to see the flow rate status of each individual lubrication point.

Utilizing Windows-based software, Flowline's RS232 interface makes computer configuration possible, and its Controller Area Network (CAN bus) interface enables remote monitoring and configuration of the system. The flow rate is calculated by measuring the propeller rotation time and compensating the result by oil viscosity grade and oil temperature.
SKF Flowline Monitor versions FL15,FL50 and FL100 are suitable for oil flows ranging from 0,1 l/min to 100 l/min. All these versions can be ordered either with BSP (R) or NPT (U) threads.
Benefits:
Easy to use with clear digital display and practical LED indicator system

Modular metering and monitoring system for customized requirements

Independently scalable output via user interface

Adjustment range from 0,1 to 100 l/min

Electronic temperature measurement and temperature-compensated measuring results

Updated, modern keypad design

Minimal pressure loss because of turbine based metering technology

Energy efficient and accurate operation
Configure the product according your needs, download the CAD file